Alumasc Rainwater & Skyline Systems

Alumasc is a UK based supplier of premium building and precision engineering products. In recent years, an increasing majority of the business has been focused in the area of sustainable building products which enable customers to manage energy and water use in the built environment.
Aluminium Coping, Soffits and Fascias
At Alumasc, they can provide exceptional aluminium coping, fascias and soffits systems, which are ideal solutions for use on roofing and gutter interfaces.
They offer both standard and fully bespoke aluminium capping, soffits and fascia designs from the Skyline range, and they are all available in high quality, in-house powder coated aluminium.
Fascias and Soffits Systems
Our Skyline fascias and soffits have an aluminium roof edge and gutter details, which suit a range of designs and budgets. The Aluminium fascia and soffit systems will cover the whole perimeter of a building, and are weatherproof and non-corrosive.
Capping Systems
Skyline Aluminium capping are easily installed to upstanding parapets and offer superb ventilation over the top of the wall. Therefore, this solution is perfect for new builds and retrofit properties.
Anti-climb Systems
The Skyline anti-climb systems have a curved barrier to prevent trespassers and therefore provide maximum security in high risk areas. These fantastic systems can be added to nearly every gutter profile and provide a bold architectural feature.
Aluminium, Cast Iron & Steel gutter systems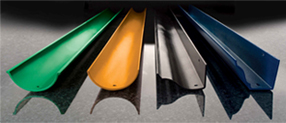 Three distinct ranges of BBA approved, UK manufactured and in-house powder coated aluminium gutter systems, with a traditional cast iron gutter range for historic and restoration projects. New to the range is the steel gutter system which is a lightweight contemporary range that's an alternative to uPVC gutters.
Alumasc offer three comprehensive ranges of powder coated aluminium downpipes and rainwater systems with complementary hopper heads; all manufactured in-house in the UK. A range of traditional cast iron downpipes is also available along with a new steel rainwater range, enabling us to provide a myriad of solutions to suit all of our clients' requirements and circumstances.
The range consists of:
Heritage – Traditional socketed aluminium downpipes
Flushjoint – Contemporary aluminium downpipes
Guardian – Security aluminium downpipes
Apex – Traditional cast iron downpipes
Hopper Heads – Aluminium rainwater heads
Hopper Heads – Cast iron rainwater heads
Steel – Contemporary and eco-friendly steel Downpipes
Having been a major manufacturer and supplier in the construction industry for over thirty years, Alumasc are well-placed to offer high-performance aluminium and cast iron rainwater downpipes and hopper heads.
They dedicate time, effort and expertise to the design of each of our rainwater pipes and assorted drainage products to ensure that they provide some of the most efficient and high-quality rainwater systems on the market today.
To find out more or to order please contact Precision Plastics Ltd. today:
Suppliers
Project Galleries
Contact Precison Plastics (Jersey) Ltd
30 Devonshire Place, St Helier,
Jersey, JE2 3RD
01534 737491
01534 730424