Alumasc (Harmer)

Alumasc is a UK based supplier of premium building and precision engineering products. In recent years, an increasing majority of the business has been focused in the area of sustainable building products which enable customers to manage energy and water use in the built environment.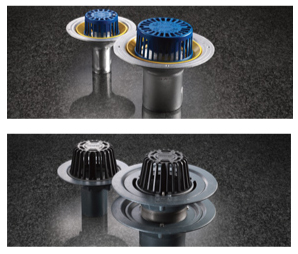 Alumasc's well established range of Harmer products provides a unique single source for innovative market leading solutions across the whole spectrum of rainwater handling and building drainage, with alternative ranges in metal and plastic.
Technically sophisticated ranges that ensure trouble-free performance for all roof drainage applications in both warm and inverted roof construction, Harmer's flat roof drainage systems combine innovative product design with full industry compliance to meet the needs of rainwater drainage in any construction project necessary.
Harmer AV® – high capacity aluminium flat roof outlets
Suitable for all regular flat roof drainage applications, these high-performance metal roof outlets come in a range of options in lightweight, non-corrosive and highly durable materials.
Harmer Detail – aluminium outlets for balconies, gullies, car parks etc.
Sometimes finding the right drainage systems can be difficult, but for any application where awkward detailing is apparent the Harmer range of detail flat roof drains could be the solution.
Harmer Cast Iron – high quality cast iron outlet range
Cast iron drainage systems offer extreme strength and durability so are ideal for load bearing applications, with the Harmer range offering unparalleled longevity for flat roof drainage systems that are built to last.
Harmer Insulated – polyurethane foam bodies; heated versions available
Insulated outlets prevent condensation forming on the underside which makes them ideal in metal deck warm and inverted roof installations, with this range being available in plenty of configurations to suit numerous drainage applications.
Efficient flat roof drainage all depends on having the right products to suit, and luckily with so many flat roof drains to choose from Harmer offers everything you could need to create rainwater drainage systems that perform.
Harmer Modulock
Harmer Modulock is a fully engineered levelling, raised pedestal system for supporting paving slabs, timber or plywood sheet decking at varying heights from the sub-structure.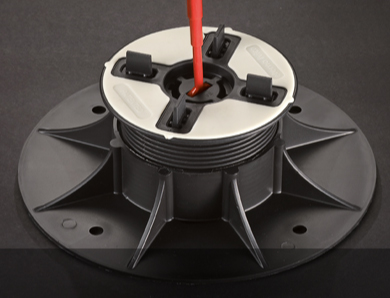 Ideal for concealed drainage and the support of paving slabs, timber or sheet decking at varying heights from the sub-structure
Designed for use in terraces, walkways, balconies and ballasted flat roof constructions
Irregular, uneven or sloping sub-bases can usually be easily surmounted by the system resulting in a new level raised floor
Allows for accommodation of services and pipework beneath the floor such as electricity, gas & drainage channels etc.
Contact us today:
Suppliers
Project Galleries
Contact Precison Plastics (Jersey) Ltd
30 Devonshire Place, St Helier,
Jersey, JE2 3RD
01534 737491
01534 730424