FloPlast

Founded in 1991, FloPlast has established itself as a leading manufacturer and supplier of Plastic Building and Plumbing systems in the UK. The company specialises in Roofline products with an extensive range of Rainwater systems and PVC-UE Cellular Foam Fascia, Soffit & Cladding systems to provide maintenance free solutions to both domestic and commercial buildings. In addition, the Company has an extensive range of Waste, Soil and Underground Drainage systems, which it supplies to Builders and Plumbers Merchants and DIY outlets.
PVC-UE Roofline, Window & Cladding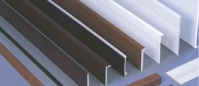 FloPlast Roofline, Window and Cladding extrusions are manufactured on state of the art machinery and extrusion dies in the group's Cork plant, which has over 40 years extrusion experience behind it.
FloPlast operates quality and environment management systems which have been assessed by BSI and comply with the requirements of both BS EN ISO 9001:2008 Certificate No. FM 501414 and BS EN ISO 14001:2004 Certificate No. EMS 538445
FloPlast boards offer a complete maintenance free solution to both Roofline and Window Systems construction. The tough impermeable outer skin of FloPlast foam boards provides year round protection from both the weather and insect infestation.
Maintenance
Will not rot, warp, crack or erode. They do not require painting or any other protective treatment.
Weather resistance
The impermeable outer skin and closed-cell composition of the boards is unaffected by moisture and will not rot or corrode.
Fire resistance
They do not burn freely and out perform timber in fire. The materials are not easily ignitable and have a Class 1 fire rating in accordance with BS476 : Part 7 1997.

Durability
The combined cellular core and Co-extruded PVC-U surface skin ensure high durability in all conditions.
Thermal efficiency
Good insulating properties, improves overall thermal insulation of composite wall construction.
Compatibility
No chemical reaction with other common building materials.
Workable
Cutting, drilling, nailing and shaping are easily achieved.
Finish
High gloss finish with blemish free surface.
Precision Plastics keep 'white' in stock, and colours can be ordered.
Contact us today:
Suppliers
Project Galleries
Contact Precison Plastics (Jersey) Ltd
30 Devonshire Place, St Helier,
Jersey, JE2 3RD
01534 737491
01534 730424