Swish




SWISH – MARKET LEADERS IN CELLULAR PVC
Swish Building Products is the leading manufacturer of Cellular PVC roofline & cladding products in the UK. Swish has achieved this position through experience, innovation and a strong commitment to manufacturing high quality products.

Over the last twenty-five years Swish has been at the forefront of product development within the industry resulting in the most comprehensive product range currently available.
For more than a decade Swish white cellular PVC products have been manufactured using a non-lead formulation. This means that Swish products will not pink under any circumstances. It also ensures compliance with UK and EEC policy with regard to the phasing out of lead in PVCFascias.
SWISH QUALITY
As an ISO9001 accredited company Swish is committed to quality. The Swish roofline and cladding ranges hold BBA certification. Swish also holds BSI accreditation, more commonly known as the Kitemark.
15 YEAR GUARANTEE
Swish offer a unique market leading Guarantee covering the colour fastness and durability of Swish branded, white cellular PVC profile.
Precision Plastics Ltd. stock a wide range of Swish cellular PVC fascia boards in white and colours, from 9mm to 25mm thick. It is important to choose the correct thickness of fascia for the proposed installation.
ACCREDITATIONS
Swish manufactures in accordance with quality management system ISO9001 and has been awarded the British Standard Kitemark as well as BBA accreditation for its comprehensive range of white roofline and cladding product.

TECHNICAL SUPPORT
The experienced Swish Technical Services Team can offer contractors for larger projects the benefit of design, planning and take off support. This may also include the development of bespoke products where there is a commercial requirement
SWISH WINDOW BOARDS & INTERIOR TRIMS
Swish manufacturers an extensive range of boards and trims for window installations and other interior trimming. The range includes a 25mm thick white replacement Bullnose window board in a variety of depths. Square (Cappit™) and Bullnose profiles are available for capping over existing window boards with matching end caps to finish the job neatly.
A wide variety of trims allow the window installer to make good around the window without the need for new plasterwork, thereby reducing installation times. The majority of profiles are available in White, Mahogany, Light Oak and Rosewood. Swish also manufacture a range of plain and decorative profiles for use as skirting and architrave boards.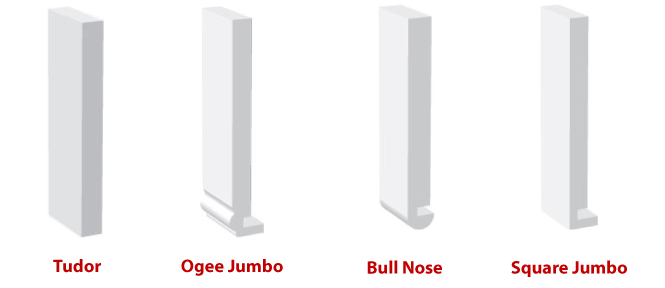 Precision Plastics (Jersey) Ltd stock is white, but we can obtain various colours to order.
Contact us today:
Suppliers
Project Galleries
Contact Precison Plastics (Jersey) Ltd
30 Devonshire Place, St Helier,
Jersey, JE2 3RD
01534 737491
01534 730424